The way Managed Software Center handles Apple software updates that require a restart has had to change recently. This is due to changes that Apple made in its software update mechanism.
Overview
Previously, Managed Software Center could handle these unattended while your computer was at the "log out" screen.
Now, Apple requires user intervention. So you must "step up".
You will see a notice in Managed Software Center that looks like this:

14 Days to Glory
For the first 14 days after an Apple Security Update appears (one that requires a restart) you will have the option of "Skipping" or installing the update.
If you choose to "Skip" the Managed Software Center will still do its usual app updates but will bypass the Apple Security Updates that require a restart.

However, when the inital 14 days of warning are over that "Skip" button greys out and your only option is to "Install".
Clicking that "Install" button will open up Apple's System Preferences: Software Update panel.
From here you have the choice of:
cancelling (by clicking the Window

Close

button),
installing (by clicking the "

Update Now

" button).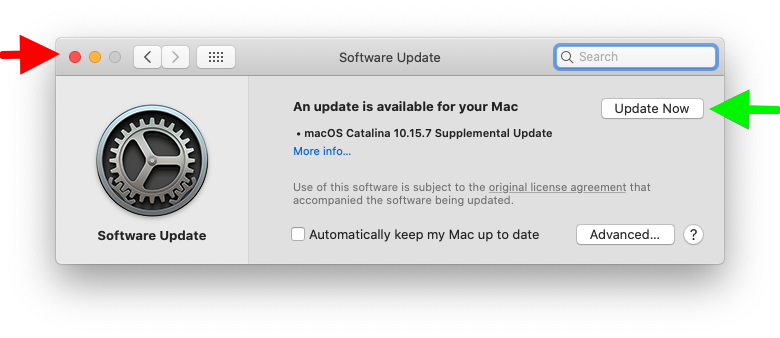 Choose Wisely
As the aged Knight Templar says in Indiana Jones and the Last Crusade, "Choose Wisely". Apple Security patches can sometimes take 30-45 minutes to apply over a restart!