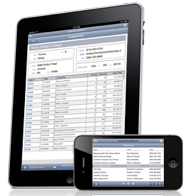 Precursor has been trained in Mobile Technical Competency by Apple and can help you work with your company data securely from wherever you are.
MDM (Mobile Device Management) is the process by which Precursor can securely provision and manage your mobile devices. We work with Apple and third party tools to provide Enterprise level MDM for small business.
FileMaker Go for both iPhone and iPad lets you work with company data LIVE from the field. As a member of the FileMaker Business Alliance, Precursor can help design and implement FileMaker Server-based solutions that are customized to you business needs.
Daylite is Market Circle's great tool to let you work with customer information and share this securely and live with members of your team from wherever you are..