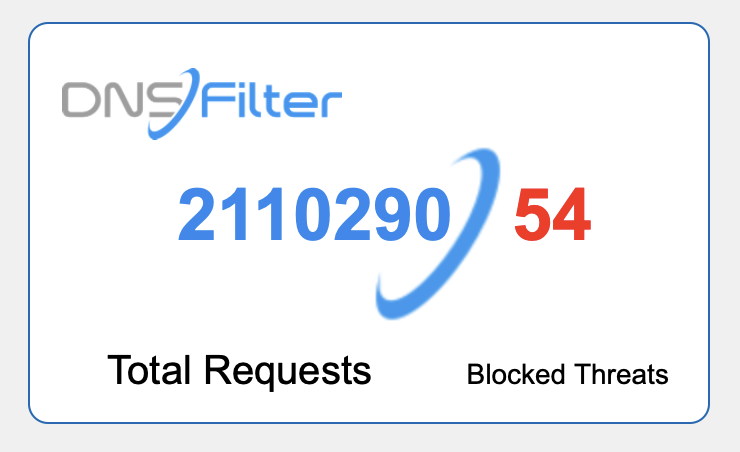 DNS filtering is a security layer that helps shield your company from all threats that originate online by scanning, categorizing, and blocking hacked websites.
Available to qualifying Support Plan customers, our DNS Filtering solution works seamlessly in the background to help protect against:
Phishing Attacks
Malware
Ransomware
Cryptojacking
Zero-Day threats
Typosquatting
Man-in-the-Middle attacks
Phishing Attacks
Phishing and spear phishing attacks are a favorite among hackers because they are relatively easy to implement. They use email or chat (such as public Slack channels or Discord) to lure victims into a scam, or more commonly to a link where they will enter data or download malware. Because DNSFilter is constantly scanning the web for new malicious sites, it can prevent phishing attacks by stopping your employees before they hit a malicious site, or give a phisher their data.
Malware
The most common way that malware gets onto a computer or other device is through surfing hacked sites. So the best way to protect your company from malware is to prevent your users from ever accessing these sites.
Ransomware
Ransomware is software that allows hackers to encrypt files, networks, and computers remotely. They then hold your data hostage until your company pays a ransom. The key to ransomware protection is stopping the malware from being downloaded in the first place, which usually requires blocking the site that hosts the malicious content before an unsuspecting user can visit it and become infected.
Cryptojacking
Cryptojacking is the unauthorized takeover of a computer or network to "mine" cryptocurrency. DNSFilter has a robust catalog of known cryptojacking sites, and domains that contain cryptocurrency references can be blocked in a single click.
Zero-Day threats
DNSFilter's proprietary AI tools are constantly scanning the internet for new sites that could potentially contain scams or malware.
Typosquatting
Turns out, the average internet user isn't always the best speller. Bad actors take advantage of this by setting up malicious sites with domain names that feature common misspellings of familiar sites. DNSFilter protects the user from typosquatting by blocking access to domains that are known to contain malware or malicious content. Never worry about misspelled domain names again.
Man-in-the-Middle attacks
Middleman attacks create a fake site that mimics a trustworthy brand login, and provides form fields where users enter their password, username, and potentially credit card data. The hacker then absconds with this data, leaving the user confused and exposed. DNSFilter's AI-tool scans the UX of domains and includes logo matching, identifying when logos are being used on sites where they do not belong, ensuring that man-in-the-middle sites are quickly found, cataloged, and blocked.